Hey guys!
My sister offered me to post an article about male skin care, and I was more than excited to take this chance and share my experience with you. Skin care was always treated as a girly thing. For guys, it's more or less a hidden topic as we would get uncomfortable discussing or sharing experiences with others. I don't find going to the store to buy corrector or to scrub my face with face cleanser feminine at all! Approximately 85% of people between the ages of 12 and 24 experience at least minor acne, but yet, I know very few people that went to dermatologist. Why? Because they are scared of pointing out the skin problems. In my opinion if we were more open about it we would get around such problems much easier. I've had problems with acne for a couple of years, but now it seems like it's disappearing. It's making me really happy and to help you too I want to share my experience with you.
I do believe that one thing has even more significant effect on your skin than your gens, hygiene, or food – your way of thinking. Before I tried any skin product I noticed my skin was getting clearer only by changing my mentality. I simply didn't allow my skin to have such a dramatic effect on my mood as it had. Its not about standing in front of mirror and pretending that you are pretty (which you are anyways), but knowing that you are much more than just your skin. What actually makes things awkward is your confidence. If one sees your insecurity about acne, you will automatically point out the problem you have instead to just shift attention to more important things. People will treat you as you make them treat you. There are so many things we should really care about and use our energy for, in this case your insecurity for skin is only a distraction. Don't let anything stop you from what you are doing. Problem always starts in your head. If there is no problem in your head, there won't be any problem on your skin. This way you will earn others respect, your stress level will go down, you will start to feel better about yourself and believe me or not, your skin will start to look better.
I often hear how much of an impact food has on the way your skin looks. I like to eat well and that's why I didn't try anything more than staying out of sugar for 2 days, trying to eat more veggies, and limit the intake of processed foods. To be honest I also tried eating Nutella with spoon for few days and none of those things made difference I could notice. Results were often the opposite of what I've expected. The only thing that makes big difference to me is amount of water I drink. I try to drink at least 2 L of water a day, up to 3 when I go the gym. When I don't drink enough water my skin gets oily, that might be a sign to drink more water for you as well, but every skin is different. I also think sun can have a really positive effect on your skin, especially after swimming in the sea. I try to stay on the sun after swimming for at least 30 mins and I always come back home with a better looking skin.
Agnes' comment: I cannot resist from commenting on the food subject. After being into food and beauty for a couple of years I highly advise you to stay away from processed foods which contain lots of useless sh*t like conservatives, colorants, sodium, artificial sweeteners and so on. Such ingredients make your skin puffy, irritated, can cause huge breakouts, dryness to mention only a few. Clean eating is the way to go. Embrace all the beautiful natural options like fresh fruits, veggies, whole grains, lentils or nuts and seeds. You might start noticing your skin is getting even worse but do not be discouraged, it's cleaning and detoxifying. Be patient. And do not forget to drink a looooot of natural water. I promise you'll notice a big difference, if not in a week or a month than surely in a few years when you'll meet your ex-schoolmates at the high school reunion and your skin will look youthful compared to the dull and wrinkly skin of your smoker friends who consume crap.
Consistency. Water. Clean eating. Sleep. No smoking. No drugs, obviously. Working out. Right skincare. Practicing face yoga or massaging. Thinking kind thoughts, relax your forehead. Patience. :)
Good luck! X
After changing my mentality I started to enjoy skin treatment. At first I started to use spices I was cooking my lunch with every day. After some time now I still think this is better than any skin product.
Recipe:
-2 tablespoons of turmeric/cinnamon
-1 tablespoon of honey
- lemon juice/olive oil
I have to admit that I'm so into curry. I love cooking with it and you wouldn't believe, how good this stuff is for your face! If you are a spice freak like my family, check your kitchen if you find any turmeric or cinnamon. Simply mix 2 table spoons of turmeric or cinnamon with a table spoon of honey and add a little bit of olive oil, if you have dry skin or lemon juice if you have oily skin. Put that on your face for 20 mins and your face will be like new, just make sure you wash if all off, believe me, my friends still sometimes ask me if I'm yellow because I didn't sleep enough. Also be careful as it might drip off to your clothes and it doesn't come off.
If you want to try other things, I've been testing some products by Afrodita lately and I'm satisfied with results.
Clean Phase- cleansing foam
Afrodita: "Gently removes facial and eye make-up and other impurities. The bisabolol and hyaluronic acid calms your skin and maintains its natural hydro-lipid balance. Apply the milk to your skin, rinse off with warm water and tone your skin with SOFT Tonic."
My opinion: It cleans the skin very well, but its not appropriate for sensitive skin. It makes your skin dry therefore you should moisturise your skin after.

Clean phase- tonic
Afrodita: "It contains hamamelis extract which regulates the secretion of oils and tightens enlarged pores. The hyaluronic acid and lemon extract helps to moisturise your skin, restore its natural pH and invigorate it. Apply the tonic to cleansed skin and leave until it is absorbed."
My opinion: my favourite Afrodita product because it makes your skin look better, it shrinks the pores and very useful after any face cleanser or turmeric mask.


Hydra Thermal Hydra Active Concentrate
Afrodita: "Supply your skin with what it needs most - moisture! With our Hydra Active Concentrate from Kozmetika Afrodita's NEW Hydra Thermal line it is now also available to you in concentrated form. This extremely effective product represents a perpetual source of moisture for all types of skin regardless of age and is particularly essential for dehydrated and tired skin."
My opinion: I don't often use moisturiser because I prefer tea tree or any other oil over this. Also it has a strong scent.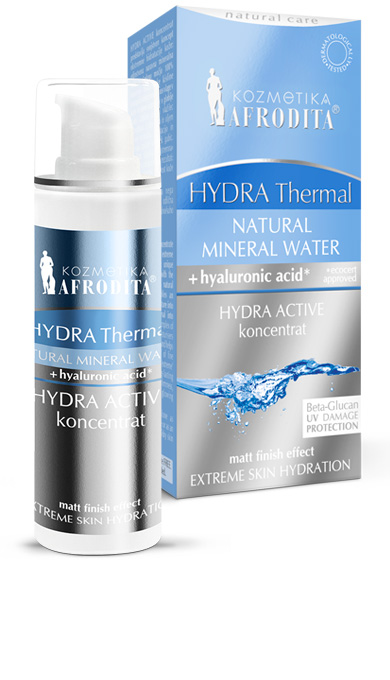 Oil Control 3 Active T-Zone mattifying serum
"it instantly mattifies the complexion and reduces sebum secretion,
moisturises the skin + protects it from dryness,
and regulates the balance of oils and moisture in the skin. "
My opinion: I would recommend this to anyone who doesn't have sensitive skin. Its a great product and results are visible over few weeks of using it.


I hope this article inspired you to try new things, to not worry that much and to spice up your daily routine a little.
Thank you for reading!
Agnes' brother, Nace
**Disclaimer: The skin is not photoshopped!**